The Railroad Through Campus
Copyright 1986, 2002 by Bruce Jaeger. All rights reserved.
Published in the Minnesota Transportation Museum's Minnegazette January 1986
Every few years, someone brings up the idea of light rail transportation to and from the University of Minnesota's Minneapolis Campus. So far, it has been dismissed as being either too expensive or too impractical. Few people realize today that more than sixty years ago, the St Paul & Northern Pacific's mainline went directly through the campus, just a few yards south of where Johnston and Morrill Halls stand.
From 1898 to the early 1920s, classes were frequently disrupted by the whistling of American Standards and Ten Wheelers passing nearby. Physics experiments were often ruined by vibrations from the passing trains, and cinders and soot from the engines' stacks found their way into everything.
Because the elevation of the East Bank of the Mississippi is higher than the West at the point of crossing, the double-tracked line had to be located in a cut passing west-to-east through what is today's East Bank campus. The tracks were located parallel to and a bit south of Arlington Street, which extended farther eastward then than it does today. The railroad tracks were crossed by hump-backed wooden or iron bridges at Pleasant, Church, Union and State Streets. "State Street'?" you may ask. Alas, it is no more. That's where the Mall is now.
In the major University expansion begun in the 1920's during Lotus Coffman's tenure as president, the residential area south of the tracks was taken over to build today's Cass Gilbert-inspired Mall and its surrounding buildings. The Northern Pacific built a new, curved railroad bridge upstream (standing today* as BN Bridge No 9) and rerouted the tracks to the present location just south of Dinkeytown. The old bridge above the Bohamia Flats was dismantled, and the cut through the East Bank Campus filled in.
All that remains today of the old through-campus line is the weathered limestone abutment from the old bridge, hidden in the brush halfway down the riverbank below Fraser Hall. But imagine the head-scratching of some future construction foreman who, while digging the foundation for a new campus building, finds a layer of ballast and perhaps some old crossties and rusted spikes some twenty feet underground!
* 1986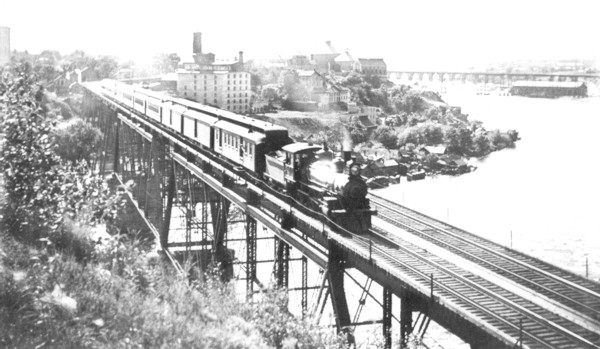 A ten-Wheeler hustles a passenger train on the old NP bridge, downstream from the location of today's Bridge No 9. Photo looks north and west from location of Fraser Hall. In distance, right are Twin City Lines Lower Dam Water Power Station (there today*), and the Minneapolis & Western Railroad bridge.(Photo courtesy Minnesota Historical Society Photo HE6.2N/P16)
* 1986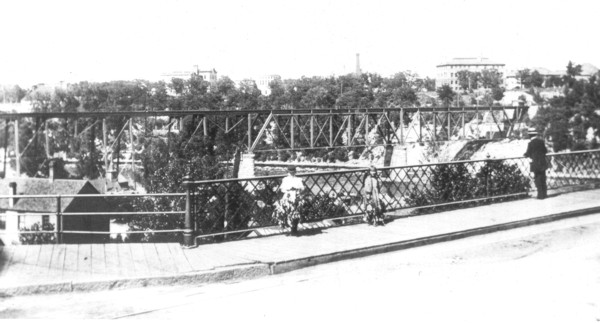 Mississippi River crossing of Northern Pacific's through-campus route, seen from west end of old Washington Avenue Bridge about 1900. Buildings in background (L-R) are: Old Main, U Of M's first building, built 1858 and burned 1904; Library, later Burton Hall; smokestack of old light plant and lab; Pharmacy, now Wulling Hall.
(Photo courtesy Minnesota Historical Society Photo FM6.811/r22)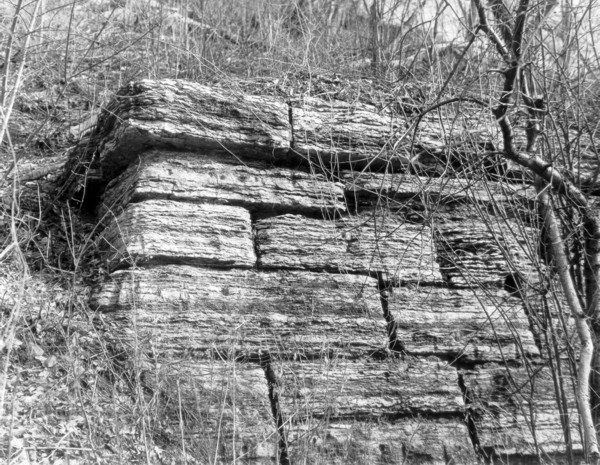 Remnants of old NP bridge today, located across East River Road from Fraser Hall, halfway down riverbank. Photograph by Bruce Jaeger